When it comes to environmental initiatives my desire is for a consistent message from elected leaders.
That our focus, first and foremost, is to be stewards of the community's good will toward the environment and to seek "common currency" (i.e. social, fiscal and environmental) in our initiatives that ensures transparency, trust and broad support.
And while I have no interest in repeating mistakes of the past in Guelph that included unattainable and unaccountable visions; my focus remains on rebuilding the community's trust in our municipal governments ability to implement fiscally responsible climate change initiatives that are achievable, transparent and reflect common currency.
In this context, please see attached an Agenda Item I will be bringing forward during the June Committee of the Whole Meeting of Council for discussion.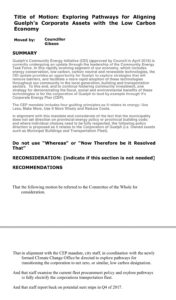 As always if you have any questions or concerns, or would like to discuss further, please feel free to reach out to me directly.
Dan Gibson
Ward 1 City Councilor
[email protected]
519-827-6407 (c)
www.ward1guelph.ca
@DanGibsonCllr