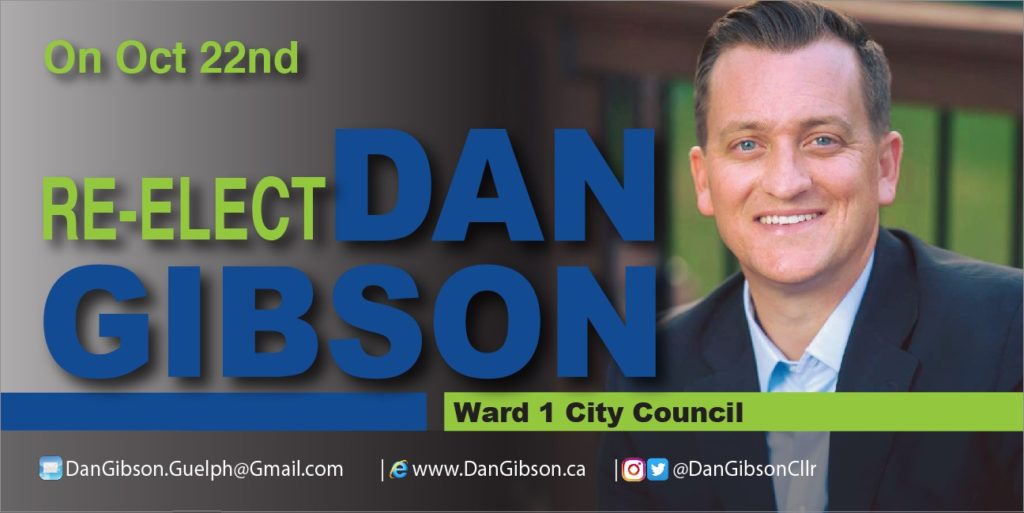 1. WHERE DO YOU LIVE?
My family and I live on Creekside Drive in Ward 1 East Guelph
2.    HOW LONG HAVE YOU LIVED IN GUELPH?
My wife Katherine is from Owen Sound, I am from Kincardine, Ontario. We've lived/worked/schooled in the Tri-Cities/GTA corridor most of our adult lives. We chose Guelph as our home in the spring 2010 when we decided to start our family.
3.     WHAT EXPERIENCE DO YOU HAVE?
My formal education includes a B.Sc. from Trent University and a Masters degree in Environmental Science from the University of Toronto. I am a Senior Environmental Scientist (working in natural sciences and renewable power generation) and have over 15 years working experience in both the private and public sector. My wife and I are also small business owners. By design, my education and career have always focused on sustainable development and seeking innovative ways to resolve complex issues. This is further highlighted by some of my professional experience;
 Guest lecturer at Carleton University's School of Environment on strategies for balancing environmental concerns with societal needs in Ontario;
Published author of industry leading environmental Best Management Practices (BMP) for the hydroelectric industry;
Contributor on multiple federal and provincial socio/economic studies on the impact of environmental legislation;
Served on numerous national and provincial recovery strategies for endangered wildlife in Canada;
Chair of the Canadian Hydropower Associations national working group on Fisheries policy. A working group aimed at increasing industry compliance with federal environmental legislation;
Experienced in land use planning/development and watershed management planning;
Experience in over 50 provincial and federal Environmental Assessments across Canada in both the private and public sector
In 2013, delegated on behalf of the Canadian Electricity Association at a Federal House Environment Study in Ottawa on the development of a National Conservation Plan for Canada;
In 2014, delegated on behalf of the Canadian Electricity Association at a Federal Environment Minister's Round Table in Ottawa on SARA (Species At Risk Act) implementation in Canada.
In 2016 and 2018, delegated on behalf of the Canadian Hydropower Association to the Federal House Committee on Fisheries and Oceans studying amendments to the Fisheries Act
In 2017, appointed to the Federal Minister of Environment and Climate Change, Species At Risk Advisory Committee (SARAC) for a 3 year term. 
2016 appointed as Chair of the Infrastructure, Development and Enterprise Committee (IDE) for the City of Guelph. 
My professional career necessitates that I work with stakeholders from all viewpoints in order to balance the many social, economic and environmental aspects of complex issues. I am results driven; am energized by a challenge, and have a desire to serve my community.
Katherine and I are committed financial partners of Lakeside Hope House in Downtown Guelph and in past years I've served as a volunteer at the Salvation Army men's shelter in downtown Toronto. My wife Katherine and I are both big believers in the foundational benefits of affordable home ownership and Katherine currently serves as Chair of the Board for Habitat for Humanity (Wellington/Dufferin/Guelph Chapter).  Social advocacy and security is personal for Katherine and I and we believe in our responsibility to support the wellbeing of those who struggle to support themselves and their families.
On a more personal note, one of my most rewarding volunteer experiences as a Dad is coaching both our boys (Luke and Marcus) in Guelph Minor Baseball each year.
4. HOW DO YOU COMMUNICATE WITH OTHERS IN DEBATES, ARE YOU ABLE TO PERSUADE OTHERS IN A DIPLOMATIC MANNER?
While I have my convictions (which I believe many share) I am also cognisant of the need for measured debate on council. This is a healthy way to express opinions and viewpoints across the city/political spectrum. And while a certain amount of conflict of opinion is healthy, I believe strategic, measured responses have greater impact. To this point, I have professional training in the seven elements of principled negotiation through my professional position. "Getting to Yes" and a "Positive No" are proven, successful strategies when debating, consensus building, and fostering working relationships.