19.33% in 5 years (2015-2020)…..that will be the cumulative increase (even after assessment growth) to the City's tax supported operating budget if Guelph Council supports a 4% (and potentially higher) increase to the budget this week.
Just as important, these increases all come while the city has run $11.1M (approx) in operating surplus's over the same period of time (2015-2019).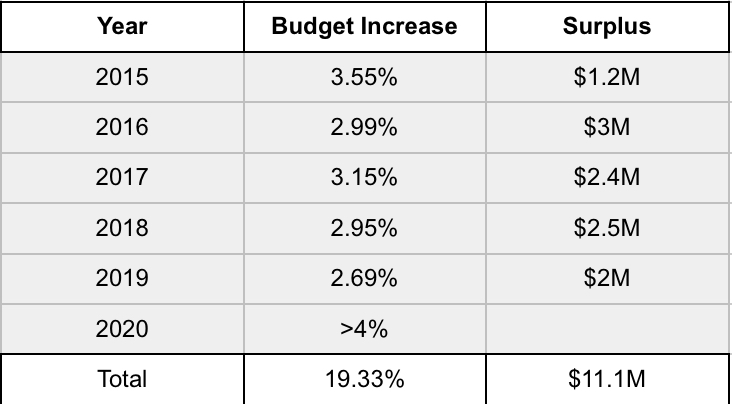 How did we get here?
Well, as it stands, the current projected budget increase for 2020 is 3.08%. This, for many, already seems high but built into this figure are all of the year-over-year cost increases to City departments and operations; a 1% increase to the 10 Year Compounding Infrastruature Levy (currently in Year 4); as well as the much needed 10% increase in the Guelph Police Services budget. Yes, there is also the much publicized hospital capital request ($4.5M over 6 years for an expansion of the Guelph General Hospital), but the 2020 contribution ($750,000) can likely be paid through the operating surplus reported by staff in 2019 ($2M).
Setting aside the police request and the infrastructure levy, staff have once again brought forward an operational budget increase that aligns with inflation (between 1-1.5%), and should be commended for it.
And this (from my perspective), should be what defines the 2020 budget. A fiscally defensible budget that supports our valued police service and promotes community safety, all while taking care of the infrastructure assets under our care. Instead however, I suspect the budget increase will climb significantly higher on Tuesday, as signalled by council last week in their intentions to add items.
Items like $1.7M in transit service expansions that are projecting poor ridership for the foreseeable future. Routes such as the proposed Hanlon Creek Business Park expansion that will cost over $900,000 per year to operate and has a projected revenue stream of only $16,000 in 2020. The result being another underperforming transit route that will be over 98% subsidized by the tax base.
To be fair, there have been a number of attempts to moderate the increase. Councillor Mark Mackinnon's motion to delay the introduction of a second capital infrastructure levy until more information is known in 2020, passed, as well as my motion to reduce the over $1.4M worth of tax based subsidization for downtown parking, also passed. But most of the impactful motions brought forward to date, such as phasing in the new community bus line, or phasing in the new Hanlon Creek bus route, have been rejected.
As a result, a budget that should be about supporting our Police Service and investments in our built assets, will likely include many additional, non-essential items that could/should be phased in over time. Not simply all at once. This approach however (all at once), does help explain why Guelph is approaching a 20% increase to the budget in just five short years.
On Tuesday, I'll be happy to be wrong.