"Investing in what we own."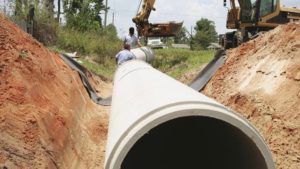 This is a good summary of my thoughts on the $90M+ Capital Budget for 2018.  With almost 80% of the budget allocated exclusively to asset renewal, the 2018 Capital budget (in my opinion) aggressively seeks to tackle some of the most pressing infrastructure needs in our City.
This includes a number of critical investments in Ward 1 such as:
$12M toward the next phase of the York Rd trunk sewer expansion project from Ontario Street east to Victoria Road through the original Ward.
$200K in detail design work for the forecasted York Road reconstruction project (from Victoria Road east to the city limits).
$1.5M for the Phase 2 Environmental Assessment and Remediation of the former IMICO lands at 200 Beverley Street.  A project that is building momentum toward the eventual mixed-use redevelopment of the 14 acre property in the heart of our City.
$420K in design and construction work for the NEW Cedarvale Parkette off of Cityview Drive in the east end.
And finally, funding for the asphalt resurfacing of Starwood Drive (from Chesterton south to Lee St).  A special thank you to all residents for your continued advocacy and support for seeing this section of road resurfaced.
For these reasons and more, I am generally pleased with the 2018 capital budget and supported it when the final vote came down.  The only aspect of the budget that I did not support was the 14% increase to the stormwater user fee for 2018.  Through this user fee (established in 2016), annual funding for stormwater management and renewal has increased dramatically during this term of council (from approximately $2M to more than $6M annually).  This is good news and given its success, I believe the increases can now begin to slow down.  With this in mind, I tabled a simple motion seeking to reduce the increase in 2018 from 14% down to 7%.  Unfortunately this motion failed on a 9-4 vote.
Next up, the 2018 operating budget.
Dan Gibson
Ward 1 City Councilor
[email protected]
519-827-6407 (c)
www.ward1guelph.ca
@DanGibsonCllr