Courtesy Doug Hallett | Guelph Mercury Tribune | March 7, 2017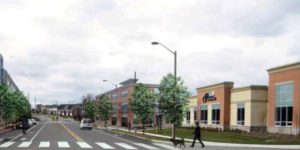 A conceptual illustration of the mixed-use node identified at Starwood Drive and Watson Parkway from a City of Guelph display board for the official plan. The existing Guelph Public Library branch can be seen at right.
Council has thrown its weight behind a "Plan B" for commercial development in Guelph's east end, in the event that the designated mixed-use node at the corner of Watson Parkway and Starwood Drive fails to shape up as a commercial centre.
Council's committee of the whole (COW) unanimously approved a slightly amended version of Ward 1 Coun. Dan Gibson's motion calling for city staff to consider opportunities for neighbourhood commercial development along York Road east of Victoria Road.
Then, on a 11-1 vote, COW approved Gibson's additional clause directing staff to report back on commercial opportunities along York as they emerge or at established reporting times for a major city-wide commercial policy review that's underway.
Gibson told Monday's meeting of COW that the city's "Plan A" is still to see a supermarket built to act as a commercial anchor at the Watson-Starwood node, where a Guelph Public Library branch now sits near a lot of vacant land. However, Gibson said he fears this designated node might be "collapsing." And if Plan A doesn't work out as hoped, "then we as council are ensuring we have Plan B" in looking at neighbourhood commercial development on York Road, he said. Continue reading