Courtesy Doug Hallett | Guelph Mercury Tribune | March 7, 2017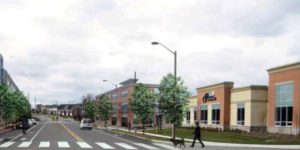 A conceptual illustration of the mixed-use node identified at Starwood Drive and Watson Parkway from a City of Guelph display board for the official plan. The existing Guelph Public Library branch can be seen at right.
Council has thrown its weight behind a "Plan B" for commercial development in Guelph's east end, in the event that the designated mixed-use node at the corner of Watson Parkway and Starwood Drive fails to shape up as a commercial centre.
Council's committee of the whole (COW) unanimously approved a slightly amended version of Ward 1 Coun. Dan Gibson's motion calling for city staff to consider opportunities for neighbourhood commercial development along York Road east of Victoria Road.
Then, on a 11-1 vote, COW approved Gibson's additional clause directing staff to report back on commercial opportunities along York as they emerge or at established reporting times for a major city-wide commercial policy review that's underway.
Gibson told Monday's meeting of COW that the city's "Plan A" is still to see a supermarket built to act as a commercial anchor at the Watson-Starwood node, where a Guelph Public Library branch now sits near a lot of vacant land. However, Gibson said he fears this designated node might be "collapsing." And if Plan A doesn't work out as hoped, "then we as council are ensuring we have Plan B" in looking at neighbourhood commercial development on York Road, he said.
Currently, York Road has "service commercial" zoning that wouldn't allow neighbourhood commercial uses such as a supermarket. However, this could change under a project launched in November to update the city's commercial framework through a new commercial policy review — the first one the city has done in 11 years.
As part of this project, city hall plans to look at the role, type and amount of commercial space in four types of areas in the city, including "intensification corridors" such as York Road, says a staff report.
Loblaw, the national food giant that owns Zehrs and other supermarkets, owns a lot of vacant land at the Watson-Starwood node, but so far it hasn't made any commitment to build a supermarket there. Scott Stewart, the city's deputy CAO of infrastructure, development and enterprise, said council's motion could be a useful signal to Loblaw — "to get serious with us, or to get serious enough to say 'we're really not serious and we don't want to put something in that node.'" The motion is a way of sending a message to Loblaw that council is serious about east end commercial development and "that you (Loblaw) might not be the only game in town," Stewart said.
City hall has made some planning concessions to allow more residential development at the Watson-Starwood node, but now a consortium that includes Loblaw wants even more residential development to be allowed in that area, he said. "It can't evolve to more residential there, or … it just can't," said Stewart.
Emails from 100 east end residents were on the COW meeting's agenda in support of Gibson's motion, and Gibson said he and fellow Ward 1 Coun. Bob Bell have heard from hundreds of people over the issue.
"These are reasonable requests from reasonable people, where there is a need," he said.
Coun. Karl Wettstein of the south end's Ward 6 said there's no question that the current council's top commercial issue is to get commercial development, especially a supermarket, built in the east end. However, Wettstein questioned the wording of Gibson's motion, which proposed that city staff be "directed" to consider opportunities for neighbourhood commercial development along York Road east of Victoria. Wettstein proposed substituting the word "continue" in place of "directed," and council unanimously backed this minor amendment after being assured by staff that it would send pretty much the same message to Loblaw. "This feels very similar to us," Stewart said. "We are comfortable with both (the original and the amended clauses). It works for staff if it works for you," he told council. Wettstein was the only councillor who voted against the motion's second clause, directing staff to report back to council on opportunities for commercial development along York. It passed 11-1, with Ward 6's Coun. Mark MacKinnon missing from the vote. Ward 4's Coun.
Mike Salisbury, who didn't support Gibson's motion when it came to council's Feb. 27 meeting as a notice of motion, voted with the majority Monday. However, he still had concerns about what he saw as a "purely political motion" that he said could have negative effects on development in other parts of the city, or even in the east end. "I'm concerned about unanticipated repercussions," he told council.
Ward 3's Coun. June Hofland asked if the motion might precipitate an Ontario Municipal Board (OMB) appeal if it's seen as pitting one part of the city, or one developer, against others. Stewart responded that Gibson's motion, on its own, wouldn't result in an OMB appeal. "There is nothing here to appeal … I don't see an issue with the OMB about what's here before us today," he told council.
Ward 4's Coun. Christine Billings said she didn't think the motion "has a lot of teeth … but I view it as better than nothing." Billings said she supported the motion's "highlighting" of York Road. "Maybe this motion can do something for the people in the east end," she said.
The city's last commercial policy review, approved in March of 2006, set out a vision that included mixed-use commercial nodes in the east, west, north and south ends of Guelph. Since then, there has been a lot of commercial development at all of these nodes except for the east end's.